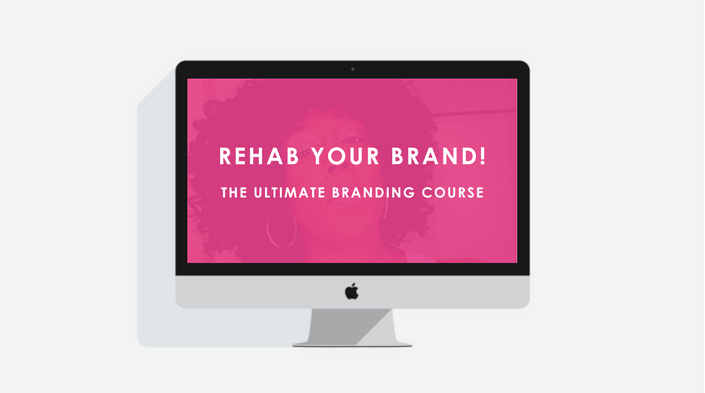 REHAB YOUR BRAND
Are You Finally Ready To Get Noticed Online?
ARE YOU A BLOGGER OR BUSINESS OWNER WHO JUST CAN'T FIGURE OUT HOW TO GET SEEN IN A CROWDED ONLINE SPACE?

WELL THE PROBLEM ISN'T YOUR PRODUCT, YOUR PITCH OR EVEN YOUR SOCIAL MEDIA PLATFORMS!
(I know it's easy to blame those shady Instagram and Facebook algorithms for not giving us the shine we deserve..hmmmhmm)
THE PROBLEM, MY FRIEND, IS THAT YOU HAVEN'T BUILT A BRAND THAT IS BOLD ENOUGH, LOUD ENOUGH OR UNIQUE ENOUGH TO GET YOU NOTICED!
LET ME EXPLAIN...
Most business owners are so overwhelmed by everything that they need to do, that they put little to no thought into their overall brand plan.
They know that they should be building a brand, they just don't really know how...so they slap together a website, add a profile picture and maybe a few product images, then painfully struggle for months, even years to attract the attention of their dream clients and customers.
BUT WHAT IF I TOLD YOU IT WAS POSSIBLE TO...
get rid of that boring, cookie-cutter brand and create something bold that piques people's curiosity and separates you from a "sea of samesies" online?
grow your audience, attract the right people to your products and sell more stuff...without compromising your personality, creativity or core values?
hop on social media and actually have people stop their scrolling to check out your page
to grow a loyal group of followers who rave about your business, read your blog posts, and comment on your content.
grow your authority as an influencer and building a one of a kind brand that people envy.
create eye-catching branded images that grab people's attention and make a killer first impression helping you look like a bonafide boss!
differentiate yourself in away that made it easy to sell your online courses, info products and affiliate programs because you ALWAYS have a "knack" for attracting the right kind of people!
WELL LET ME INTRODUCE REHAB YOUR BRAND!
The best way to give your brand a facelift!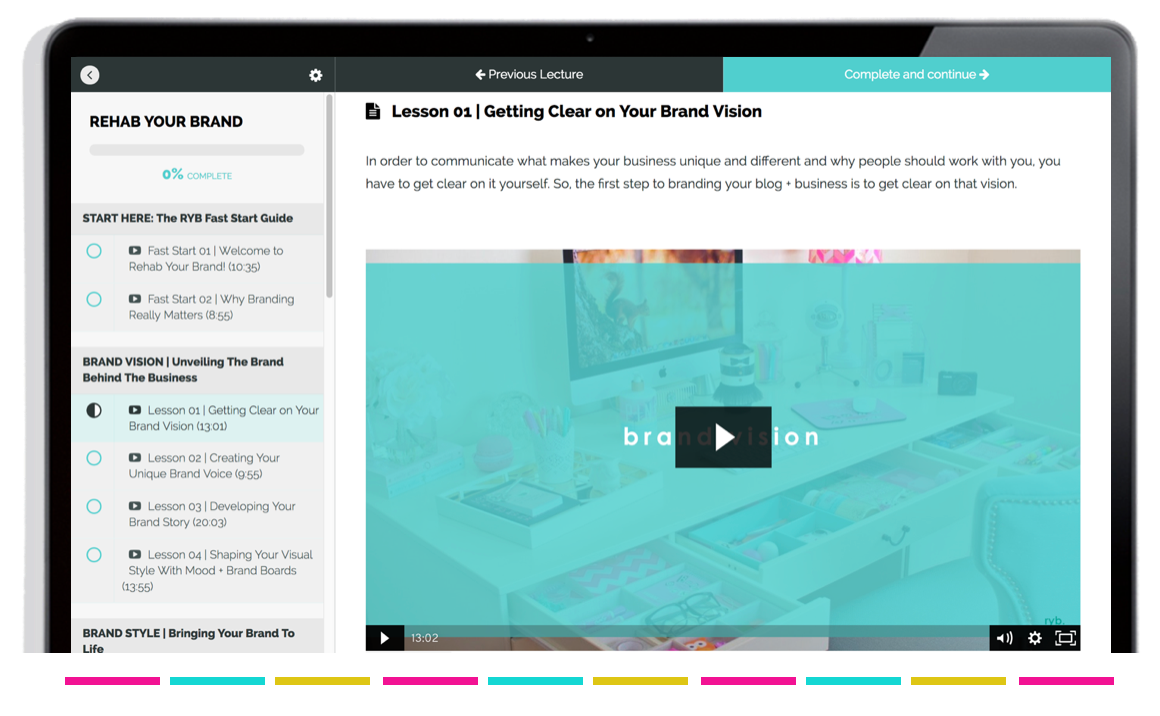 Let me show you...


How to identify your "secret sauce" so you can design a one-of-kind business experience that attracts the right customers and partners.
What it takes to get clear on the who, the what, the how and the WHY of your business so that your branding will align with your passion, the people you aim to serve and your profit goals.
The secrets to slaying your visual style so you can stand out on social media and show up like the boss you are. I'll teach you how to pull together a design aesthetic and create a brand identity that embraces your personality and purpose.
Strategically leverage your brand so you can rapidly grow your reach, get your content seen and increase your subscribers! (i.e. more followers = more people on your list!).
How to use Keynote + Canva to quickly and easily use your brand elements to create punchy, eye-catching images and marketing materials that make people say WOW. Branding is all about making a good first impression. I'll NOT only teach you how to get your pins and posts seen, but how to get people engaging and visiting your blog!

How to brand your blog, Instagram and Pinterest profiles so you make sure your visitors stick around exponentially growing your scrollers, subscribers and social presence!

AND MUCH MUCH MORE....
That's right. This course takes your boring, cookie cutter (or non-existent) brand and completely transforms it into a bold, custom brand that is professional, oozing with personality and 100% YOU.
Course Curriculum
START HERE: The RYB Fast Start Guide
Available in days
days after you enroll
BRAND VISION | Unveiling The Brand Behind The Business
Available in days
days after you enroll
REHAB YOUR BRAND IS RIGHT FOR YOU IF WANT TO...

Drastically change the way you show up online.
Finally stand out and recognized as the powerhouse #blogboss you are. Learn how to become the go-to resource in your niche so you can sleep easy knowing that the work you do each day matters!
Design a brand that's totally awesome but doesn't require you to become a graphic designer or spend months learning some complicated and expensive design software and FREE.

Feel confident with the products you put out, knowing that the packaging is not only pretty and professional but elevates the one-of-a-kind brand experience you want to give to your customers!
Take you from broke to making bank. Yes, you can become a powerhouse brand that makes money sharing your gifts!
BUILDING A BRAND IS NOT AN OPTION
---

IT'S A PRIORITY!
If you want to make more money, you've got to become a lead magnet (yes YOU) and it's starts with your brand!
Whether you are trying to or not, you are building a brand. But you have a choice. Build a brand where you control the narrative or build a brand where people are left to make up their own minds about you. It's up to you. The Internet isn't just a place where people come to they come to share "great" stuff, they come to get seen, to get heard, to get found.
Your brand, no matter what your niche, is the ONLY thing you control and when you FINALLY UNDERSTAND how to leverage WHAT MAKES YOU SPECIAL in the right way, you will be UNSTOPPABLE.
REHAB YOUR BRAND HAS TO POWER TO COMPLETELY TRANSFORM YOUR BUSINESS.

And with the lessons you learn, you won't just build a beautiful brand, you will also to grow your audience, increase your traffic, and skyrocket your email list...not in a matters of months...but within weeks. And all of this means more money for you. YOUR BRAND = BANK...PERIOD!
Get the full Rehab Your Brand e-Course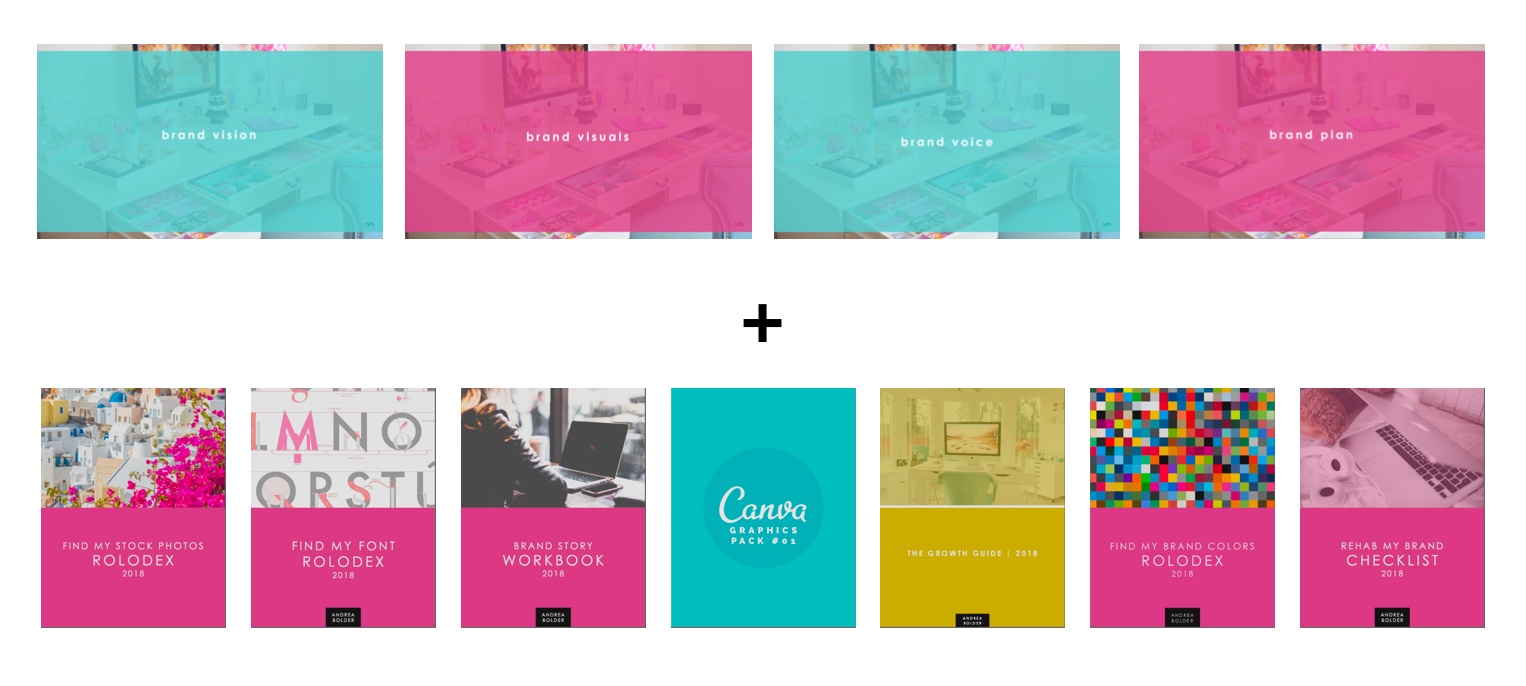 Video lessons, resources & templates.
You'll receive access to all 4 modules including 18 video lessons
PLUS...
---
Over 20+ Checklists, swipe files and resource lists that all help you to efficiently and effectively implement what you learn so you can build your BRAND quickly! Walk-through tutorials using Canva, Keynote AND Google
Templates for use in Keynote, PowerPoint, Canva or Google for your Mood Board, Brand Board, Brand Book and more.
Student chat thread where you can get all of your questions answered by me personally! Need feedback, more clarity or just want to share you success, I'm here to support you every step of the way!
Lifetime access to all of the training modules that include over 14 step-by-step lessons on how to build a better brand (and when I update the courses or add a bonus...you'll be the first to get it!)
AND WHEN YOU PURCHASE REHAB YOUR BRAND TODAY YOU WILL ALSO GET INSTANT ACCESS TO THESE BONUS RESOURCES..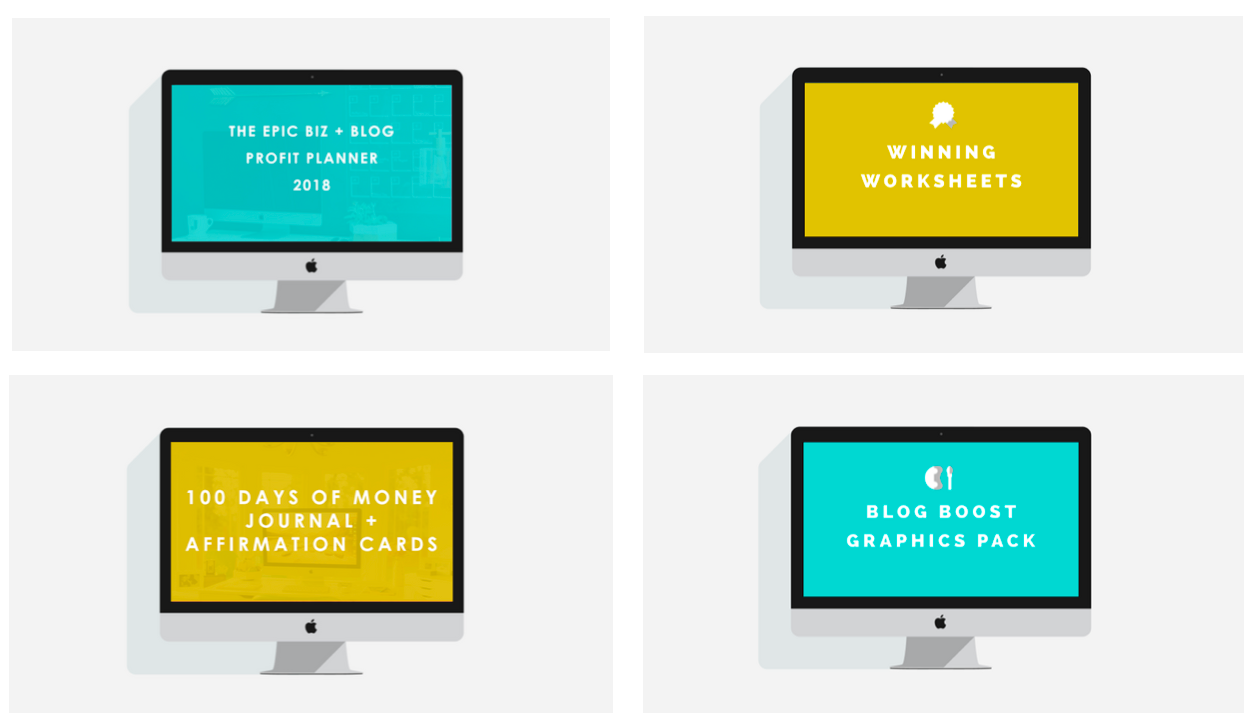 Your Instructor
Hey there, I'm Andrea Bolder. I help bloggers and online entrepreneurs turn their brands into bank and their ideas into a full-time income online. As a passionate e-course creator, I've taught thousands of students. And as a Gold Medal winning Olympian turned Online Entrepreneur, I've turned my blog into a wildly profitable business.
But things weren't always so sweet! When I first started online, I was overwhelmed, I had no clue what I was doing - in fact, my blog and business sucked. My blog started as a means to an end - to provide training for team members I was partnering with in a totally different business - but it quickly evolved into what would become my full-time gig and I am grateful for this business.
By simply implementing the strategies and systems I share in my online courses, my blog's traffic, income and audience has doubled every single year.
So, even if you're new to this "blogging" thing, have ZERO audience or have no idea how to get more eyeballs on your business, then this course my friend will be the ONE that changes the game for you!