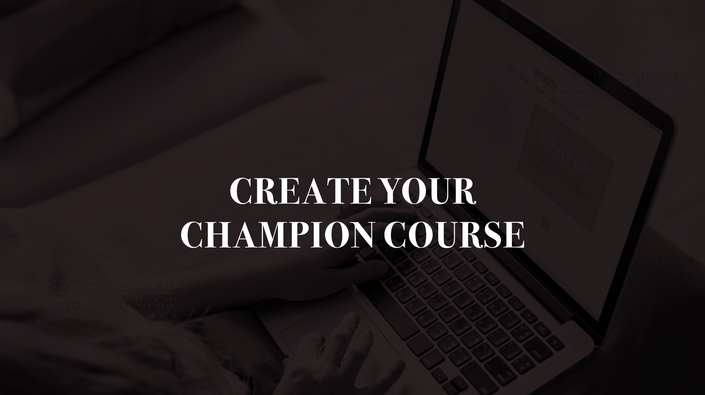 Create Your Champion Course
Create, Brand and Slay the launch of your first online course...in just 30 days!
WHAT IF YOU COULD CREATE, BRAND + LAUNCH A CASH-GENERATING ONLINE COURSE IN JUST 30 DAYS?
The kind that attracts your perfect fan, grows your biz and puts mad money in the bank...Can you see it?

---
OF COURSE YOU CAN...BECAUSE YOU'RE A CHAMPION
---
I'M TALKING, SERENA WILLIAMS, STEPH CURRY, SLAY-ALL-DAY-BEYONCE TYPE OF CHAMPION!
You didn't think you were building a business to be average now, did you?
You have a unique set of skills, strengths and super-human powers that could REALLY help others.
You WANT the world to look at YOU as a winner, a leader, a game-changer in your industry and anything less than success is just not an option for an ambitious, up-for-any-challenge type of entrepreneur like you! (amiright?) And you also know that the best way to do this is by sharing your ideas and experiences through an online course.
Online courses have become THE number one way for entrepreneurs to turn their expertise into income, build a community of raving fans, and expand their brands.
---
HANDS DOWN THEY'RE THE BEST WAY TO WIN ONLINE!
---
To make a splash in your industry you know you don't just want, but NEED a successful and profitable online course, product or program.
Maybe, you've been ready to create one but don't have the right idea, got stuck trying to figure out all the tech stuff or maybe you're just overwhelmed with the one-million and one ways to build a course and before you could begin, you shut down because you just didn't know where to start.
OR, maybe you did start, maybe even launched your course but when people ask you how your launch went you say, It was okaaayy…(code words for it was an EPIC FAIL!)
Whether you're just starting out or you've been playing around with the notion of creating a course for a while, you know there's a piece of the plan that's missing….but what?
DOES ANY OF THIS SOUND LIKE YOU?
You have no idea what to create an online course on or worse, you have too many ideas and can't make up your mind. You just sit there, as weeks, months, even years go by just waiting for lightning to strike. It feels too overwhelming to come up with life-altering content. "I mean who wants to hear what I have to say anyways?" (Psst. That would be a whole heck of a lot of people, hun!)
You're worried creating an online course won't be worth your time. You've got a business to run for goodness sake. Your time is money and you have little of either to waste. You want to make sure ANYTHING you do delivers dollars in return.
You don't have an huge Instagram following or an email list or a Facebook community of raving fans so how could you possibly sell something? You're worried it will be impossible to market because you don't have a large social presence and your email is well, shameful! How will you be able to get the word out there?
You're worried no one will want to buy your products and at the price you want to sell them at. Why would they want to PAY for a course from ME if they can just "google it" for FREE?
You're scared you're not as smart or knowledgeable as you think. You're worried people will peg you as a fraud, a fake, a phony...because c'mon what do you know, right? You're terrified you don't know enough, can't answer every question OR worse, get something wrong.
---
BUT, WHILE LAUNCHING A COURSE MIGHT BE SCARY, CREATING A CHAMPION COURSE ISN'T JUST IMPORTANT. IT'S QUITE POSSIBLY THE BEST THING YOU CAN DO TO GROW YOUR BUSINESS.
(and I rather be scared and successful than scared and broke.)
---
Online courses for many of the world's most successful lifestyle entrepreneurs is the KEY to opening up the door to a wildly profitable, six-figure business.
Yep. Creating e-courses, ebooks, challenges and online workshops will actually help you MAKE MORE MONEY!
JUST IMAGINE A WORLD WHERE…
You feel like you have the power and confidence to create the products people want. You know exactly what you're doing. You have great content, excellent value and amazing branding. No second guessing or putting energy in the wrong places.
You feel connected to your purpose. Not only do you get to create courses that benefit others, you get to see your own calling fulfilled. You're more connected to your business.
You can learn it, implement it, share it, teach it...and get paid for it!
Your sales explode on autopilot. You can create simple systems that give TONS OF VALUE and keep people THIRSTY for anything you have to offer. All without feeling like a salesy sleaze ball!
YEAH, ONLINE COURSES ARE THE BOMB.COM!
AND RIGHT NOW. YOU HAVE ALL THE SKILLS YOU NEED TO TAKE THAT IDEA IN YOUR HEAD + TURN IT INTO A CASH GENERATING ONLINE COURSE.
Even if you have already tried to launch a course that has barely generated sales! Don't let your bruised ego bury your dreams of success. There is something you know, Something you have. Something you've learned - that can help someone else get to where they want to go!
The reason why your online courses aren't selling - the reason why you're too afraid to start - has nothing to do with you. It's your game plan.
A GAMEPLAN YOU CAN LEARN, IMPLEMENT + GET RESULTS! BECAUSE I'M HERE TO COACH YOU.
INTRODUCING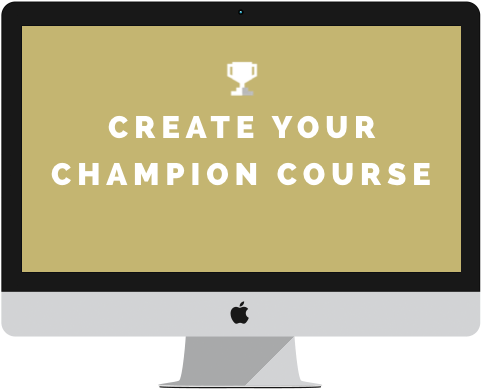 The only online course on online courses that gives you the play-by-play to creating, branding, promoting and launching a winning course in just 30 days!
THROUGH SIMPLE, ACTIONABLE STEPS, I'LL HELP YOU CREATE A ONE-OF-A-KIND COURSE THAT ATTRACTS YOUR PERFECT FIT FANS, POSITIONS YOU AS A PRO + EXPANDS YOUR FREEDOM-BASED EMPIRE! CAN. I. GET. AN. AMEN!!!
I get it, we've all purchased online courses that have over-promised and under-delivered. The kind of course that makes you want to drop kick somebody and kick yourself for spending your hard earned money.
But with the right strategies in place, we can intentionally turn your online courses into a virtual ATM (cha-ching!)
HERE'S THE GAMEPLAN WE'LL TACKLE TOGETHER…
This course is broken down into four main quarters, designed to take you from idea to income within 30 days. SCORE!
---

1st Quarter | CREATE
Discover and develop your profitable course idea
---
Lessons include…
Finding Your Course Idea: Picking the right idea is KEY. Learn the three components for choosing a profitable course idea and how to test your idea to guarantee it becomes a hit!
Perfect Fit Fans: Identify the people your course will benefit the most and how to find them.
Planning Your Content: How to build out your course idea using one of my favorite tools and the content creation strategies for organizing and writing your course without going crazy.
Naming Your Course: Discover the simple 4-step formula I use to create catchy course names in just minutes.
---

2nd Quarter | STYLE
Create a personality-filled course styled to sell.
---
Lessons include…
Branding Your Course: Understanding how to use fonts, color, and graphic elements to create a memorable and cohesive course that has YOU written all over it!!
Logos: How to create a course logo that doesn't suck! Learn to build a timeless logo using FREE tools and what variations you'll need.
Presentation Slides: Creating stylish presentation slides has never been simpler. I'm revealing the design hacks that will have your course looking like a million bucks!
Creating Your Course Brand Book: How to pull it all together in a Brand Book so you can see how your brand elements work together.
---

3rd Quarter | PACKAGE
Bring your course to life with professional + polished content you're proud to show off.
---
Lessons include…
Producing Your Course: Understanding the different ways to deliver content to your students and how to choose the perfect platform for your online course.
Recording, Editing and Uploading: Create professional training videos and audio content without the headache. Get a step-by-step walkthrough of how to produce course media using Quicktime, Camtasia, and iMovie and where to host it.
Building Your Course Hub: No more tech traps and unreliable membership site plugins. Get an exclusive behind the scenes tutorial for setting up your course on Teachable.
---

4th Quarter | LAUNCH
Don't launch to crickets. Launch to buckets of cash!
---
Lessons include…

Pricing Your Course: Pricing your course right can transport your profits from blah to bomb. I'll help you pick a price that won't piss off your fans but doesn't undercut the value you deliver. It'll be a win-win!
Designing Your Sales Page: Whether your course sales page is housed on a site all its own or a page on your existing blog, I will break down the champion principles you can use to guide you as you build a sales page that actually...SELLS!
Promoting Your Course: To make money you must master marketing. Learn the best ways to build buzz around your course, get prospects on your email list and convert subscribers into buyers. Call me crazy, but I'm revealing my daily marketing routine. Worth the price of this course x 100! Your welcome.
How To Launch: Learn how to launch, if you should launch at all and what to do after you launch to maximize your profits!
IN 30 DAYS YOU'LL BE ABLE TO CLAIM THE TITLE OF CHAMPION COURSE CREATOR (FINALLY) AND HAVE ALL THE TOOLS AND SWAG YOU NEED TO MAKE IT A SUCCESS.
Now, Create Your Champion Course isn't about throwing some idea into a half-baked course or learning a bunch of high tech course creation strategies. This course is about TAKING ACTION to CREATE A COURSE people will love (all dollahs, no drama!) Everything you learn can be implemented RIGHT NOW.
Plus, TODAY ONLY you'll also get
---
OVER $1,100 WORTH OF BONUSES. BOOM!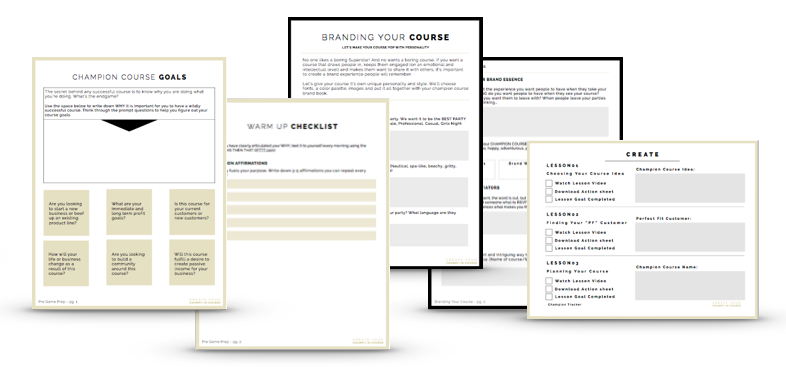 ---
15 PDF WORKSHEETS, CHECKLISTS + GAME PLANS | $500 VALUE



Each lesson will include a fillable + actionable worksheet, checklist or game plan so you can DIRECTLY apply what you learned to your own course. Passive learning doesn't create paychecks! You have to do the work. You can print the worksheets or type into each PDF directly to save on your desktop. And by the end of this program you'll have a clear, easy to execute and actionable plan for creating your most profitable course yet.
THE CHAMPION COURSE CREATORS TOOLKIT | $100



My FAVORITE tools on demand. You can't build an empire with bootleg tools. You don't have to have the most expensive tools, you just have to have the right tools and I'll be sharing every single tool you'll need to create, brand and launch your champion course and become a goal-conquering BOSS without breaking the bank!
DAILY MARKETING ROUTINE | $200

Clueless about what to do to promote your business and brand each day? Get a sneak peak of my daily marketing routine so you can stop wasting time and start making money so you can do more of what you love.
Yep, having a consistent routine will make it easier for your to attract the RIGHT people and lots of them to your course!
30 DAY LAUNCH CHECKLIST | $100
I'm sharing the 30 day launch plan that should be a course in itself. Get the ultimate checklist to launch like a PRO. Learn how to create an air-tight launch that is sure to make your course soar!
WINNING WORKSHEETS | $100 VALUE
I'll show you exactly how to use Apple Pages and Google Drawings to style and brand show-stopping worksheets, lead magnets, checklists, ebooks, action plans and other course collateral. You don't have to have a lick of graphic design experience. The best part? I am giving you 3 sets of pre-designed templates in both Pages and Word just in case you need a creative jumpstart. I got you!!
6 FIGURE PASSIVE INCOME SYSTEM | $100 VALUE

Make it rain with your very own 6-figure passive income system. In this video training you will learn how I set up a simple (yet powerful) sales funnel that will allow you to turn your subscribers into buyers. Cha-ching...again!! I'll even show you how to automate your sales and how to multiply your profits AFTER they buy. Passive income is where it's at and now you'll have a behind the scenes look at the system that allows me to make the most amount of money in the least amount of time!
PLUS
I'm known for dropping a Surprise Bonus here and there. I know, I know...but if I told you what they were, they wouldn't be a surprise, right? Just know that you'll be pleasantly surprised!
---
TOTAL PACKAGE VALUE = $1100

YOURS FOR ONLY $99!
---
ENROLL NOW TO GET CREATE YOUR CHAMPION COURSE AND ALL BONUSES FOR JUST $99.
---
SO WHAT HAPPENS WHEN I BUY THIS COURSE?

STEP 01. Click the Enroll button and complete your payment through your preferred payment source. (Super simple)
STEP 02. Check your email inbox for a confirmation to make sure everything went through as it should.
STEP 03. Class starts right away! Yep, no waiting around here. You'll be sent an access link to the course along with a welcome email providing all the juicy details you need to get started.
STEP 04. This is a self paced program but no matter how much you have on your plate you should expect to spend 30 short days creating, styling, packaging and planning to launch your champion course.
STEP 05. Be seen as a game-changing supastar (yep I said supastar!) with the ability to help a whole lot of people as you turn your expertise into income, build a community of raving fans, and expand your personal brand.
Now, look, this course is not a good fit for everyone. Do NOT think about signing up if the following applies to you:
You're lazy, want someone to create a course for you, and not willing to do the WORK. This is an action-oriented, results-driven course. I am not here to do the work for you. I am here to show you step-by-step WHAT to do and HOW to do it. The rest will be up to you.

You LOVE excuses. Losers get sidelined around these parts! Believe me when I say this. I will be your biggest supporter but I will never enable "loser mentality." If you love excuses, well this course right here won't love you!

You sell physical products. This course currently caters to online course creators or those who have the desire to start creating online courses.
---
NOW, LET'S MEET YOUR CHAMPION COURSE COACH!
---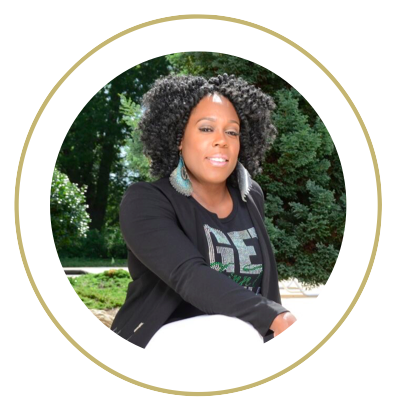 HEY! HEY HEY!! CHAMP! I'M ANDREA! OLYMPIC GOLD MEDAL WINNING ATHLETE TURNED ONLINE ENTREPRENEUR + CHAMPION COURSE CREATOR WHO HELPS ENTREPRENEURS CREATE IT, BRAND IT + SELL IT! YEP! I'M A PRO AT TEACHING SOLO-ENTREPRENEURS HOW TO TURN THEIR IDEAS INTO FREEDOM-BASED EMPIRES (SUITS + HEELS NOT REQUIRED!)
ARE YOU READY TO TAKE ACTION AND CREATE, BRAND + LAUNCH THE CHAMPION COURSE OF YOUR DREAMS?
---
LET'S GET YOU IN THE GAME!
Course Curriculum
The Warm Up
Available in days
days after you enroll
STYLE
Available in days
days after you enroll
Frequently Asked Questions
When does the course start and finish?
The course starts now and never ends! It is a completely self-paced online course - you decide when you start and when you finish.
How long do I have access to the course?
How does lifetime access sound? After enrolling, you have unlimited access to this course for as long as you like - across any and all devices you own.
What if I am unhappy with the course?
We would never want you to be unhappy! If you are unsatisfied with your purchase, contact us in the first 14 days along with your completed CYCC course work and we will give you a full refund.